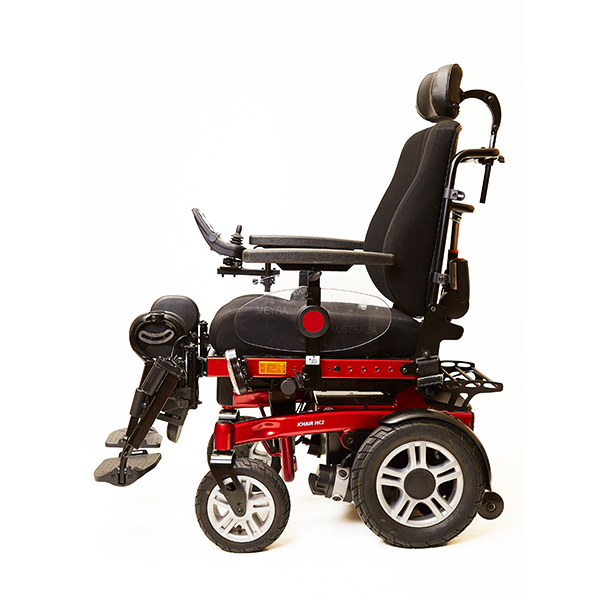 MEYRA MC2
REAR-WHEEL DRIVE POWER WHEELCHAIR
The MC2 Power Wheelchair is well designed, durable, and heavy duty. It's the ideal load balance, powerful motors and high capacity controller system that makes it easy to drive with precise control. It's the easy customisation of different seating and backrest systems, controller and joystick combinations, along with a wide range of options and accessories that makes the MC2 very versatile for a wide range of conditions—and perfect for you! 
REAR WHEEL DRIVE
With the MC2's rear wheel drive configuration, you don't need to worry about what's happening behind you, as most of the chair is directly below or in front.
Rear-wheel drive chairs have a smooth ride thanks to larger casters.
Rear-wheel drive chairs have the highest top speed of all configurations, and are easier to handle at higher speeds.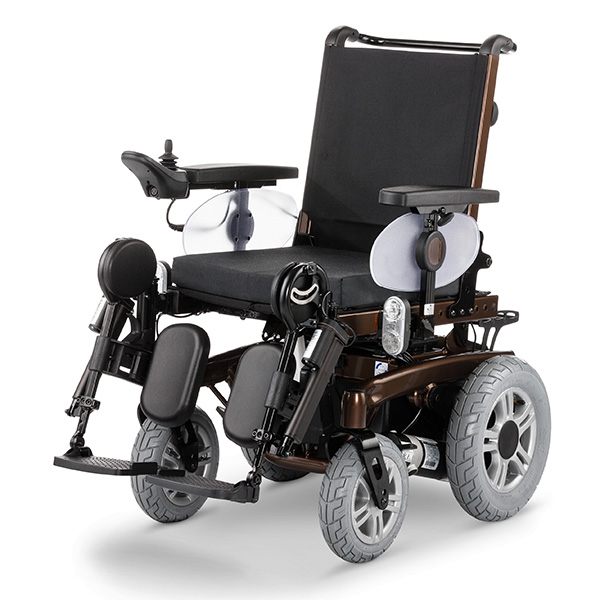 POWER BACK REST & SEAT TILT
Get the pressure relief you need with the MC2's 50° power seat tilt and 60° backrest recline.
Tilt systems have numerous health benefits, including reducing the risk of pressure injuries, reducing shear force on the base of the spine, oedema management, easier transfers and reduction of fatigue.
A tilt system makes you more comfortable and reduces back pain, meaning you can be more productive and get more out of your day.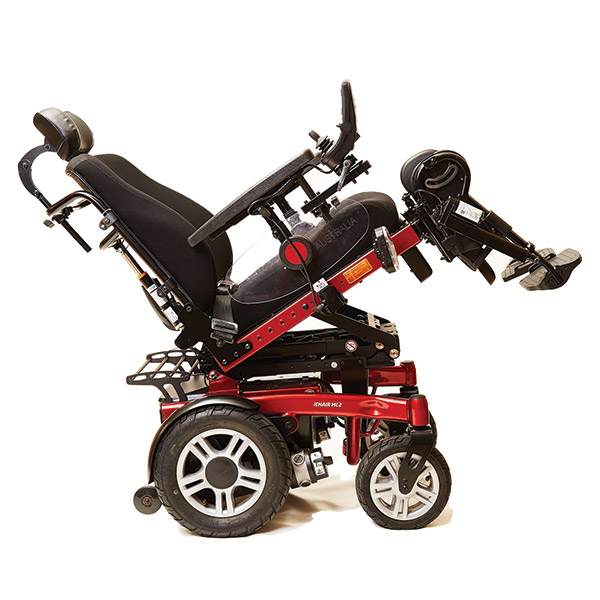 ADJUSTABLE SEAT WIDTH & DEPTH
Hit the sweet spot with the MC2's adjustable seat width (380 – 650 mm) and adjustable seat depth (400 – 560 mm).
Adjustable seat width is important for comfort and function. Too narrow puts pressure on the hips and thighs; too wide, and you don't get the posture support you need. Seat depth too needs to be just right for correct posture. The MC2's adjustability means you can get the comfort and support level you need.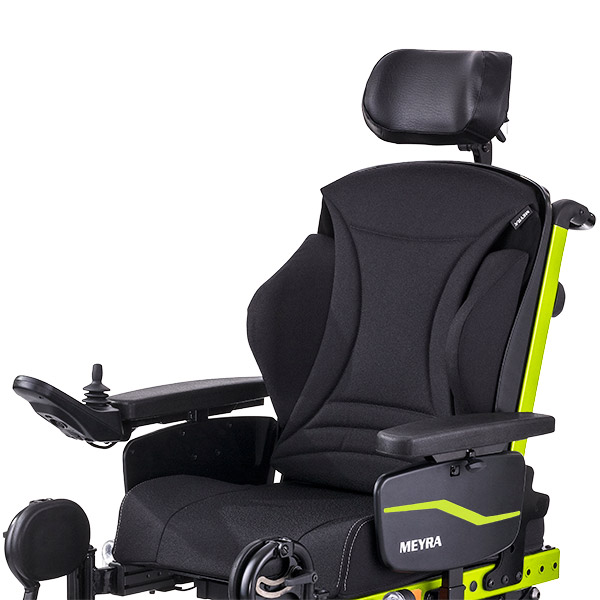 ACCESSORISE & CUSTOMISE
The Meyra MC2 comes with a full range of accessories, including the MySeat seat system, luggage rack, crutch/cane holder, safety belt with buckle, odometer, operating hours counter, rear view mirror, pelvic belt, kerb climber and occupant restraint system.
Available in a range of frame and accent colours.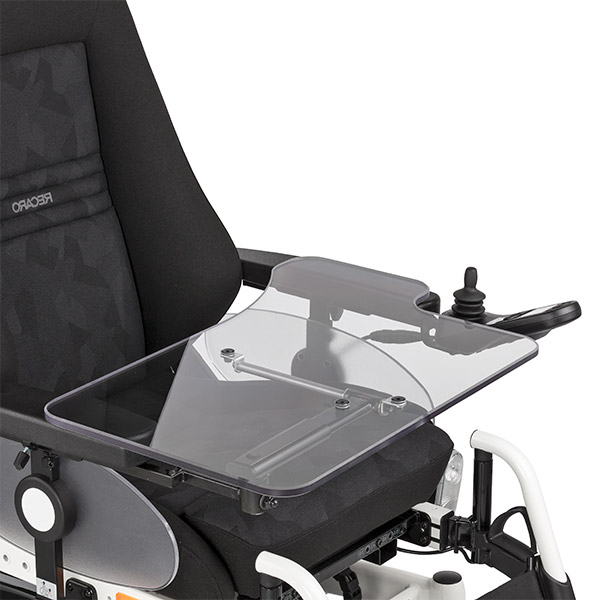 MEDICAL CONDITIONS
SUITABLE FOR
Traumatic brain injury
Multiple sclerosis
Cerebral palsy
Paraplegia
Obesity
Parkinson's
Stroke
Leg amputations
Geriatric care
SPECIFICATIONS
Seat width
38 – 65 cms
Seat depth
40 – 56 cms
Backrest height
45 – 50 cms
Legrest length
28 – 50 cms
Armrest height
24 – 35 cms
Seat height – front
44 – 68 cms, (depending on tyre combinations)
Overall length – with legrests
Approx. 113 cms
Overall length – without legrests
Approx. 83 cms
Overall width
58 – 62 cms
Wheel size front
230 x 70mm/ 260 x 70mm
Wheel size rear
320 x 60mm/ 356 x 75mm
Maximum obstacle climbing height
Approx. 60mm
Turning radius
Approx. 84 cms
Driving range
35 – 40 kms with 73 ah batteries1
Chair weight
Approx. 100 kgs, no batteries
Maximum client weight
160 kgs
Motor power rating
350 watt 4 pole German motors
Maximum gradient
15 degrees
Mechanical seat tilt
0 to 10 degrees
Seat raise
300mm
Power seat tilt
0 to 50 degrees, tilt in space
Mechanical backrest
-10 to + 30 degrees
Power backrest recline
-10 to + 50 degrees
Compliance testing
ISO7176 strength & durability standards
ISO7176-19 crash test requirements
 1 Distance will be affected by client weight, terrain and battery condition
*dimensions in mm, weights in kg, wheels in inches
**speeds in mph (km/h), dimension tolerances ± 10 mm ± 2°
FRAME & ACCENT COLOURS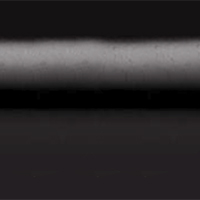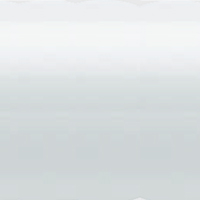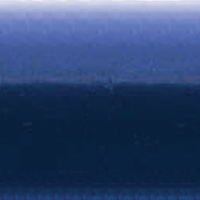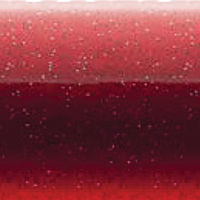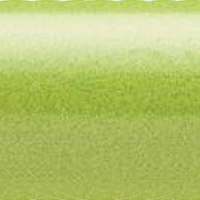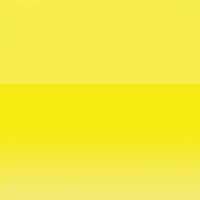 ACCESSORIES
DRIVE RIM & CASTOR OPTIONS
Besides the standard drive wheels, the Xtrends Aktiv wheels are available in blue, red and gold.
Lightweight magnesium wheels are available in metallic blue, red, orange, black and white.
Solid rubber castor wheels with aluminium rims are optionally available in trendy Xtrend colours.
The frog legs are available in silver, black, orange, red, blue and white.